Septic Tanks
Tanks-A-Lot has a rich history of manufacturing and supplying quality concrete septic tanks in Alberta since 1982. We manufacture our tanks to CSA B66 specifications in our new manufacturing facility. As a result, our septic tanks have the following industry-leading features:
CSA B66-10 certification
Raised lip manhole on septic tank roof for superior sealing of concrete manhole extensions. Ultra-rib (plastic) extensions are also available
4" flexible rubber inlet for reduced failures from movement of house sewer line
Threaded 2" PVC outlet for superior connection of pressure lines to the pump and septic field
20-year limited warranty on materials and workmanship
What are Septic Tanks?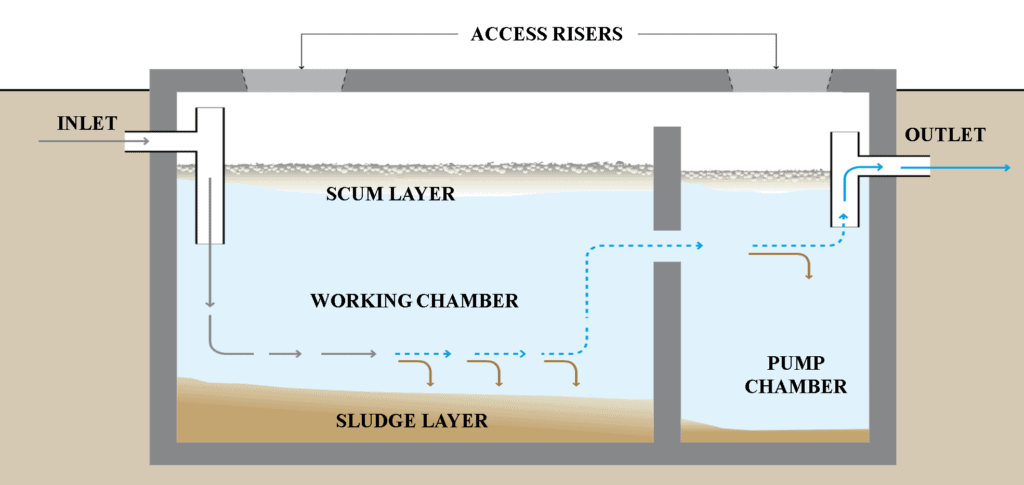 Septic tanks are underground, 2 compartment wastewater treatment structures. These structures are typically used in rural locations that are not served by a public sewer system. Septic tanks are typically used with a septic or drain field system that uses soil drainage to treat household wastewater.
Sewage holding tanks, on the other hand, are single compartment tanks that receive household wastewater. These tanks are then serviced by a vacuum truck when full.
How Do Septic Tanks Work?
Septic tanks work as follows:
Wastewater from your home drains into the septic tank via the inlet pipe
The working chamber allows separation of heavier solids from lighter fats, oil and grease
The liquid, or effluent, transfers across a baffle to the pump chamber
A siphon assembly or electric pump moves the effluent to a septic field
The septic field typically consists of an arrangement of perforated pipe inside a trench
The soil accepts, treats, and disperses wastewater as it drains through the soil, ultimately discharging to groundwater
The design of a septic field depends upon site factors such as elevations, lot size, soil types, and local bylaws. Therefore, septic system designs are usually done by certified installers and professional designers.
What Size Septic Tank Do I Need?
The size of your septic tank depends on a variety of factors. The following calculation provides the minimum working capacity required as determined by the Alberta Private Sewage System Standard of Practice. However, special consideration should also be given to fixtures such as garbage disposal units or hot tubs. Added consideration must also be given to the minimum sludge capacity.
Number of bedrooms * 1.5 persons per bedroom * 75 gallons per person per bedroom
For example, the above calculation requires a 3-bedroom home to have a working capacity of approximately 337 gallons which is achieved using our P1220 septic tank.
Which Type of Septic Tank is Best? Concrete vs. Plastic Septic Tanks
Concrete septic tanks offer several advantages over plastic tanks:
Concrete septic tanks are significantly heavier than plastic tanks. As a result, concrete tanks won't float
The long-term performance of a plastic tank depends on careful installation to achieve its support structure. On the other hand, concrete septic tanks have built-in structural integrity
Plastic tanks are more susceptible to damage and special care must be taken to ensure they don't develop punctures during backfill. Concrete septic tanks, on the other hand, are highly durable and long-lasting
How Deep Do I Bury My Septic Tank?
Septic tank burial depths are significantly impacted by site factors such as the frost line. As such, burial depths mostly range between 2' to 10' of earth cover. Our 1220P and 1518P models have the deepest burial depth rating in the underground concrete tank industry.
Please contact us for more information about sewage systems in Alberta or to be referred to a certified installer.